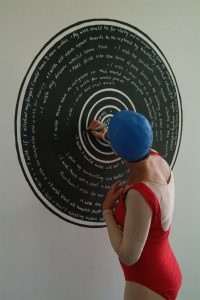 My practice is a continuing exploration of stories, memories, and beliefs that may be held in everyday spaces, people and objects. I often play with found materials and occupied and unoccupied spaces, working to transform the meanings that may be trapped or stuck within. I then weave together old and new materials. Consistently stitch, costume and ceramics. The work then truly finds life, expansion and release through its audience.
My practice in the therapeutic arts is intrinsic to my artistic practice. I am passionate about informal creative facilitation and in awe of people's surviving capacity for magical thinking, sometimes despite all the odds. I am committed to developing my own practice around the concept of art as a source of nourishment, connection, and healing. I believe that art is a necessary part of our everyday lives and our own personal dreams and experiences can be transferred and contained in virtually everything around us; and that this is something to nurture, encourage and celebrate. My work is concerned with personal and universal meanings, often involving the gathering and shuffling of seemingly dissonant pieces. A vital part of this process is a capacity for building a rapport with audiences that will excite meaningful dialogue and questioning.
Selected recent curated:
2020 'Hell or High Water' A weekend of live art celebrating life's transitions with tales of adversity, survival and inevitable transformation. Due to Covid-19 restrictions adapted into a permanently available digital event available for audiences to experience and explore entirely online!
Supported by Arts Council England
2019-2020 ​'The Dogon Egg' seven experimental weekend cells where artists try out new material that promotes a conversation with local residents and gallery visitors.Weekend 1 'An Actual Occasion' interactive exhibition and silent disco Weekend 2 'Tomorrow's Daydream' three artists make and curate work in the space whilst inviting visitors to take part in the conversation.Weekend 3. Affordable Summer Arts Weekend. 10 artists host affordable summer arts fayre.​http://mikeygeorgeson.com/?page_id=403​.
2017 -2020 ​'Mind Your Head' Seasonal Art Cabaret with Hosts Calum F Kerr and Caroline Gregory.​ Providing safe space and opportunities for artists and musicians to develop new live works and exhibit dirt cheap art.
Selected recent live Projects:
2021 'Domestic Eccentrica' Installation and live outdoors performance curated by Natalia Zagorska-Thomas at One Paved Court Gallery
2021 'Auguries/ Auguries Orientation' Installation and live performance for 'Can We Ever Know The Meaning Of These Objects' curated by Sarah Sparkes and Kevin Quigley at Gallery 46 Whitechapel.
2021 'Woolgatherer' Film of Live performance at Bulverhythe beach for May day full moon tide directed by Laura Durward.
2020 – 2021 ' Magnificent Tree at Warrior Square Station parts 1 and 2' performed live outdoors and filmed for 'Be-coming Tree'. A digital space that provides not only opportunities for people to gather and re-establish ancestral connections with trees but also tangible ways to give visibility to artists worldwide and fund tree planting.
2021 " Auguries of Innocence' for 'Blakefest/Corona Visions' curated by Mikey Georgeson
2020 'I've Been a Little Unwell Part 3' outdoors at Stephens House and Gardens, for 'Briefly IN TRANSIT' curated by Rebekah Dean
2017-2019 ​Q-Park Chinese New Year Open Exhibition. curator Vanya Balogh. Including Year of The Dog "Another Fine Mess", Year of the Cockerel 'Wishbone Washing line' and Year of the Pig 'Bringing Home the Bacon'
2016 – 2019 ​Annual Bermondsey Artists Group members Showcase at Southwark Park Galleries. Including. 'Pool' Live performance and installation. 'I've been a Little Unwell' Part 1 and 2 Gallery and open-air installation and live performance.
2013 – 2018 ​Chutney Preserves curator Sarah Sparkes. Live outdoors performance and installation on Camberwell Green and including 'Demon Jellies', 'Pickled knittings' and 'The Amnionic Goddess'

2018. ​'Mum Before Me' curators Joan Byrne, Phia Goddard and Caroline Wright. Including Live performance and installation.
2017 ​Inspiral Weekend Gravesend. Curated by Charlie Fox. Interactive installation of 'Forgotten Sea Chest'
2002-2014 ​The Surgery and Nunhead Open Art Exhibition.
Co-founded The Surgery an artist-led project set up to promote and encourage opportunities for dialogue between artists. The Surgery had use of a shop front gallery space on Evelina Road where over forty events, projects and exhibitions took place. The Surgery established Nunhead Arts week & founded The Nunhead Open Exhibition ​http://thesurgery.turnpiece.net/
Education:
2011 ​IATE Adolescent Psychotherapeutic Arts Counselling Diploma
2006 ​Goldsmiths University Foundation in Arts Psychotherapy
1991 ​St Martins School of Art and Design. BA Hons Fine Art/Sculpture
1988 ​Wimbledon School of Art. Art Foundation Studies
Informal arts, therapeutic and educational projects:
2017 -2021 'ArtPlay' Informal semi-therapeutic creative Play sessions for all ages
2015 ​Cafe Gallery Projects: Arts activity for 9-11-year-olds. In response to Stephen Pippin's self-balancing pencil 2014 ​ 'Hungry Ghost Festival' art activities for 8 -14-year-olds to celebrate Halloween.
2013 ​'At the Moment of Being Heard' South London Gallery: Arts activities for 14 – 18-year-olds. In response to the SLG exhibition in collaboration with Southwark CAMHS services.
2013 ​Gallions School. P4C permanent installation of outdoor artworks and arts activity leading to the philosophical enquiry led by year 5 and 6 pupils.
2003 – 2013 ​Lewisham Young Carers Centre. Planning and delivery of arts activities, clubs and young people's arts based events including annual coordination and delivery ' The Big
Arts Counselling: 2011 -2020​ private practice

2009 – 2013​ New Woodlands EBD School. Individual sessions
2010 – 2013 Abbey Manor College. Individual sessions.

2009 – 2013​ Lewisham Young Carers. Individual sessions.